The ancient Keyhole tomb is built
into the design of the park.
Imashiro Daio-no-Mori Park is the name given to the grounds of the park's two main symbols, Imashirozuka Burial Mound and Imashirozuka Museum. Imashirozuka burial mound is the largest keyhole tomb in the Yodo River basin, measuring 181m in length. Including the double moat that surrounds it, the whole tomb is approximately 350m long and 340m wide. It is said that this ancient monument was built in the first half of the sixth century as the tomb of Emperor Keitai (Prince Shotoku's great grandfather).

In Japan, you cannot usually enter imperial burial sites, but this site is an exception. A park has been built here so you can walk around freely. It is a place where local residents and visitors to the city come to relax - they use it for walking, playing sports, or having a picnic.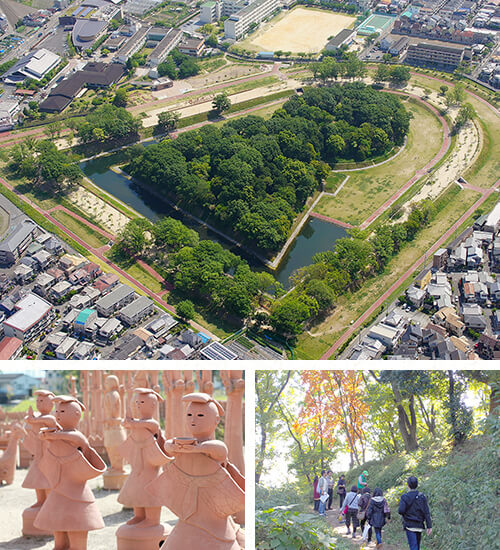 The only royal tomb in Japan set in a public park!
Imashirozuka
Burial Mound Park
The burial mound covers an area of nine hectares with its rich greenery. It is the only place in Japan with a fully-restored haniwa (clay figures) ritual precinct. There are around 190 clay images of houses, people and animals lined up in rows (you can touch some of these if you like). A circuit of the inner rampart surrounding the mound is about 1km. People go walking or jogging here in the mornings and evenings, and you will often see people enjoying a picnic on the lawn.
| | |
| --- | --- |
| Address | Gunge-shinmachi 48-8, Takatsuki, Osaka |
| TEL | +81 72-682-0820 |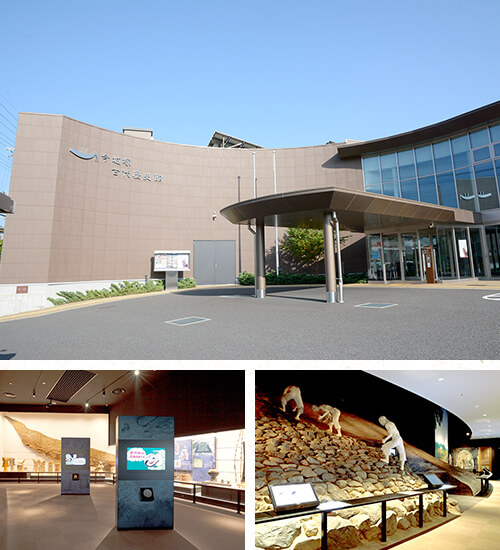 An exhibition of archaeological findings excavated from Imashirozuka Burial Mound over the past 10 years
Imashirozuka museum
You can find out all about Imashirozuka Burial Mound from the exhibits here, such as the haniwa (clay figures) figures that have been unearthed during the excavations or the three restored sarcophagi, as well as from the model diorama and video commentary. Practical workshops are held here regularly, so you can learn about the history and culture of the Kofun period and have some fun at the same time, trying your hand at making haniwa and magatama (ornamental Comma-shaped beads).
Opening hours:
10:00AM - 5:00PM

(Last admission 4:30PM)

Closed
On Mondays; next day after public holidays; New Year holiday (December 28 - January 3)
Admission
Admission is free

(An admission fee may be charged for temporary exhibitions or special events held in separate rooms)

Address
Gunge-shinmachi 48-8, Takatsuki, Osaka
TEL
+81 72-682-0820
*Please see the Takatsuki city website for details of exhibitions and special events.
*The parking lot is free. Opening hours: 9:45AM to 5:30PM.
Workshops
Color magatama

Strap

Haniwa

Kumihimo
We run various workshop classes that can be enjoyed by adults and children alike. (Japanese guide only)


Related Site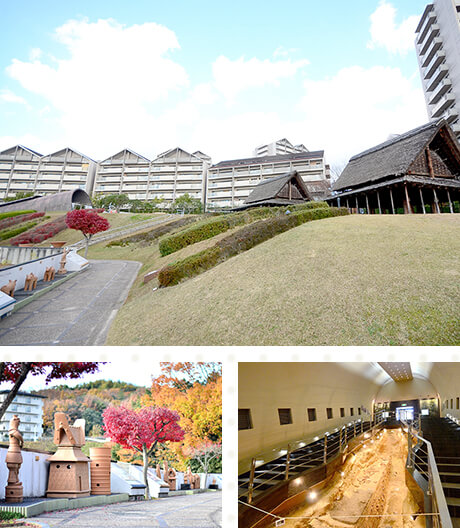 Remains of the largest haniwa factory in Japan
Shin-ike
Haniwa Factory Park
A park set around the remains of the haniwa factory (the national cultural heritage Shin-ike site) for Imashirozuka Burial Mound. You can see how haniwa was made during this period in the factory museum, with its restored workshop built on a hill and kiln set into the slope. (Opening hours: 10:00AM - 5:00PM)
| | |
| --- | --- |
| Address | Kami-himuro 1, Takatsuki, Osaka |
| TEL | +81 72-695-8274 |
*Haniwa factory museum closed from December 29 to January 3.

A c c e s s